Would you Rather PreLubricate Your Engine or Rebuild It?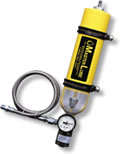 Never start your engine without oil again! Our Patented MasterLube Oil Pre-lubrication & Accumulator System is "Insurance for Your Engine." Before your engine is started — Every Startup, Every Time — your engine will have oil pressure!

The MasterLube System is an aftermarket product that is added to you vehicle, boat, tractor, or plane. It works by PreLubricating your engine... bringing it up to operating oil pressure BEFORE you start your engine, thus reducing or eliminating the "Dry Start" wear and tear placed on your engine during startup.

For you racers concerned about losing oil pressure during a burnout or hard cornering, the MasterLube System works as an accumulator for your engine, keeping your engine running at full oil pressure throughout these stressful times. Boat engines face the same oil pressure fluctuations while in rough waters... that fluctuating oil pressure can be very damaging on that expensive engine. An accumulator is just what is needed on that boat to keep full oil pressure in you marine engine under even the harshest driving conditions.

Don't just take our word for it! Read through the numerous testimonials from our satisfied customers... customers satisfied with the results they are getting from the MasterLube System.

Want to see the System installed in some of our customer's application?
Click here to view...

At MasterLube Industries, we have been working for over twelve years at perfecting this system. We feel so strongly that our product will benefit you and your vehicle, that we offer a Lifetime Guarantee on our system, a system that is completely American made.

If you have ANY questions about our system or how it will work for you, please, feel free to call us! We love the questions, and are always willing to spend the time to educate our customers as to the problems associated with dry starting your engines, and with the prevention that can be put in place to extend the life of your engine. Browse through our site or Call us today — we would love to help!